Comprehensive background checks to ensure integrity and prevent fraud
Better informed recruitment decisions to mitigate the risks associated with a position
Compliant with GDPR guidelines
What is Hoffmann?
Hoffmann helps organisations achieve a safer and more ethical working environment. With 60 years of experience and 75 specialists in corporate investigations, forensic investigations, ICT security and strategic risk management, they are a reliable partner.
Fraud, integrity, undesirable behaviour, cybersecurity and security risk management are common topics Hoffmann focuses on. They also pay attention to reducing risks of undesirable behaviour and incidents in the workplace. Every year, they handle more than 1.300 cases on behalf of companies, non-profit organisations and governments.
Hoffmann & Validata
The cooperation between Hoffmann and Validata enables organisations to conduct in-depth, or complete, screening. Especially for integrity-sensitive positions such as c-level, senior and board-level candidates, Hoffmann's services are a valuable addition to Validata's standard screening.
Ultimately, Hoffmann and Validata offer help to make better-informed decisions in the recruitment process through expert advice. Validata's screening is an objective verification of facts. Such a screening can be extended, for example, with Hoffmann's following investigations:
An interview with referees to verify the candidate's competence, reliability and integrity
A personal interview with the candidate
A risk analysis to determine the screening components
A comprehensive financial investigation
Interested in Hoffmann's services?
Get in touch with our Partner Manager, Bart Weustink, by filling in the form below or calling
+31 (0) 88 050 2100 and asking for Bart.
Benefits of our partnership with Hoffmann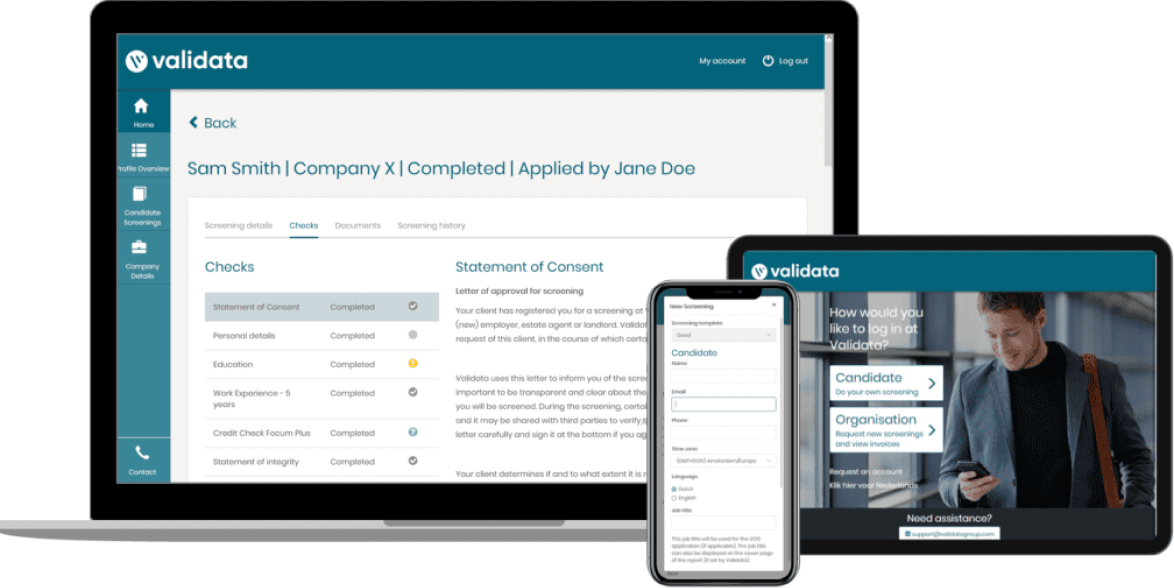 Better-informed hiring decisions with expert advice
Validata's experience in screening and Hoffmann's experience in conducting in-depth investigations enable an employer to make better-informed decisions based on sound research.
Investment with long-term benefits
Did you know that a mis-hire can cost two and a half times the affected employee's annual salary? This makes professional research a valuable asset, saving organisations costs, time and energy.
Careful with confidential data
The security of your data and that of your candidates is incredibly important. This is why both Hoffmann and Validata fully comply with the requirements of the GDPR.
Want to know more about Hoffmann?
Contact us
"*" indicates required fields
Contact us
"*" indicates required fields
Contact us
"*" indicates required fields
"*" indicates required fields
"*" indicates required fields